Schoharie Valley Concert Band Holiday Concert Set for Saturday 12/9 at 7:30PM (Snow Date - Sunday 12/10 at 3PM)


Brian Swanhall
Conductor Samanatha Baldwin has scheduled the Schoharie Valley Concert Band (SVCB) Holiday Concert for Saturday, December 9th at 7:30PM at Cobleskill-Richmondville HS Auditorium with a snow date of Sunday, December 10th at 3PM. Students will be admitted free and the performance is open to the public.
Brian Swanhall will be the featured trumpet soloist on the program performing "Have Yourself a Merry Little Christmas" by Hugh Marin and Ralph Blane. Swanhall, who was born and raised in Connecticut, received his BA degree from Mansfield University (1982) and his MA degree from the College of St. Rose (1991) in Music Education. His Schoharie County teaching career began at Jefferson CSD where he taught the band and chorus from 1982-1985.
In 1985 Swanhall joined the US Army Band as a musician and spent 3 years at Ft. Devens, Massachusetts as a trumpeter touring New England and NY with the Stage Band and Concert Band. In 1988 he returned to Schoharie County and taught band and chorus in the Richmondville CSD. Swanhall was an active participant in the merger study that joined the Cobleskill and Richmondville CSDs (1993) and became the CRHS Band Director, a position he held until retiring in 2018.
After his tour of active duty with the Army Band, he transferred to the NY Army National Guard Band in Peekskill. where SFC Brian Swanhall served as High Brass Group Leader and Assistant Conductor for the 42nd Infantry Division (ID) Band of the NY Army National Guard. As a member of the 42nd ID Band, he performed in the Concert Band, Stage Band, Ceremonial Band, Brass Quintet and Jazz Combo. He also served as the Physical Fitness Noncommissioned Officer. He served in the military for 35 years, retiring in July 2020.
SFC Swanhall volunteered with Task Force 53 in the aftermath of the World Trade Center Attack. Swanhall's army awards and decorations include the Good Conduct Medal, the Army Achievement Medal, the Army Commendation Medal, the Combat Readiness Medal, the NY Defense of Liberty Medal, the National Defense Service Medal, the Army Reserve Component Overseas Training Ribbon, the NYS Physical Fitness Ribbon and Soldier of the Quarter.
Brian has been a member of the SVCB for 13 years. He also has been a member of the Schenectady County Community Band playing trumpet and French horn; and the Cobleskill College Jazz Band, playing trumpet, trombone, and alto saxophone. He also plays in musicals every year.
Conductor Baldwin's program includes several holiday favorites. "Hark! The Herald Angels Swing" is Chris Harp's 2013 modern arrangement of the English cleric Charles Wesley's original 1700's piece whose title ended in "Sing". "Sparkling Lights" is a 2016 Matt Conway fanfare of the German folksong "O Christmas Tree" or "O Tannenbaum" (evergreen fir tree). "Lo, How a Rose E'er Blooming" is a 1988 arrangement of the German advent hymn which features strong chordal harmonies.
"The Polar Express" is Jerry Brubaker's medley of four musical themes from the 2004 movie. "Fanfare of the Festival of Lights" by Evan VanDoren is based on Hanukkah melodies from "The Dreidel Song" and "Ma'oz Tzur". "Happy Holiday / White Christmas" intertwines melodies from these two Irving Berlin's songs which were featured in the 1940's motion picture Irving Berlin's "Holiday Inn". Leroy Anderson's Christmas favorite, "Sleigh Ride", which he surprisingly began writing during a 1947 summer heat wave, will round out the program.
The Schoharie Valley Concert Band is open to all area residents including high school and college students. Rehearsals are held on Thursday evenings from 7-9:15 PM. in the Cobleskill-Richmondville HS bandroom. Rehearsals for the Valentine Pops Concert Series will begin on January 4, 2024. For information on how to join the band, please contact Conductor Samantha Baldwin at svcbconductor@gmail.com.
---
SVCB Conductor Samantha Baldwin to Debut on Sunday Oct 22nd Fall Concert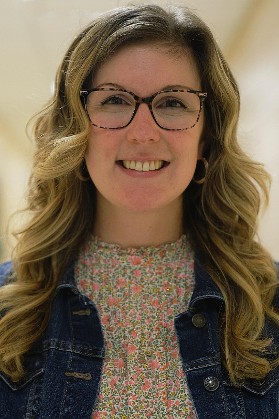 Samantha Baldwin
The Schoharie Valley Concert Band (SVCB) is pleased to welcome Samantha Baldwin as its fourth conductor in 40+ years. She will be directing the SVCB on its "Fall Concert" to be performed on Sunday October 22nd at 3PM in the Cobleskill-Richmondville HS Auditorium. The performance is open to the general public with free admission for students.
Samantha brings a wealth of talent and experience to the position. Her ties to the SVCB go back to 2002 when she joined the band as a Cobleskill-Richmondville (CRCS) student. She went on to win the Donald Webster Solo Festival sponsored by the SVCB at the 6-8, 9-11, and Senior grade levels. She was instructed at CRCS by three re$red band teachers who are current SVCB members, Susan Ginsburg (elementary), John Boyer (middle), and Brian Swanhall (high school).
Samantha graduated Summa Cum Laude from Syracuse University (SU) with a Bachelors in Music Educa$on and a Flute Performance Honors Certificate and was the SU Marching Band Drum Major. She stayed at SU for 2 more years earning Masters Degrees in both Music Educa$on and Instrumental Coaching while also working as a graduate teaching assistant.
Samantha is in her 10th year as a NYS public-school band director. She currently teaches at Shaker High School in the North Colonie CSD in Latham where she directs the 9-10 and 11-12 Symphonic Bands, Marching Band, and Pep Band, and is the music director and pit orchestra conductor for Shaker's annual spring musical. She is a NYSSMA Solo and Ensemble Adjudicator. Samantha resides in Colonie, where she is a cantor at St. Pius X Church masses and a member of the Pastoral Council.
Conductor Baldwin's "Fall Concert" includes Broadway, movie, and big band pieces. "Pixar Movie Favorites" arranged by Michael Brown includes themes from Disney's "You've Got a Friend" plus 4 Pixar-Disney movie collaborations. "Big Band Bash" includes 1940 tunes from Stan Kenton, Glenn Miller, Count Basie, and other music legends.
Frank Ticheli's arrangement of "Loch Lomond" intertwines a second melody from "Danny Boy". "October" is a contemporary piece which evokes a peaceful musical representa$on of composer Eric Whitacre's favorite month. "Flourishes" by William Owens portrays the joy and exuberance of youth by first featuring the brass, then the woodwinds and trumpets with percussion fairy-tale interjections.
Two military marches, Gustav Holst's "Second Suite in F" movement 4 and Julius Fucik's "Florentiner March", and the "On the Hudson March" by Edwin Franko Goldman will round out the program.
The Schoharie Valley Concert Band is open to all area residents including high school and college students. Rehearsals are held on Thursday evenings from 7- 9:15 PM. Holiday Concert rehearsals begin on Thursday October 26th at the Cobleskill-Richmondville HS band room. If you would like to join the band, please contact Conductor Samantha Baldwin at svcbconductor@gmail.com.