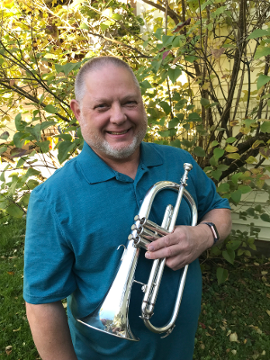 Chris Pahls interest in music stems from having parents who both played musical instruments; his dad a trombone; mom piano and singing. He played trumpet in elementary school, his first musical instrument bought by his parents that he still plays today.
But it was in eighth grade at a music assembly that the band director introduced him to a "huge white thing" he called a tuba. Chris knew he just "had to play that." And so he played the tuba, until he enrolled in a private high school in his home town in Pennsylvania, which didn't have a band program.
His mom, who was the secretary for the music department at Bloomsburg University at the time, was able to work out an arrangement with the college band director so that Chris could play tuba with the college band. Years of playing with the college band laid the foundation for his learning to play the tuba.
While Chris was playing trumpet in the college Jazz ensemble, the 4th trumpet part called for a flugelhorn. He asked the director if they had such a thing and he loaned him one. "I was instantly hooked on its mellow tone," he said. "A couple of years after Janice and I were married, she and her father ventured into Manny's Music in Manhattan and purchased the flugelhorn that I play today."
Not having his own tuba, an expensive instrument, he went back to playing trumpet at church services. Years later, after moving to Schoharie County with his wife Janice, who also played trumpet, he joined the Cooperstown Community Band and the Schoharie Valley Concert Band, playing percussion, mainly the bass drum.
Yet his interest in the tuba never waned. Years later he was able to buy a tuba and has been playing the instrument in the Schoharie Valley Concert Band ever since. And he also continued playing trumpet, as lead trumpet with the Small Town Big Band, a jazz ensemble based in Cooperstown. He also sang with the Depot Lane choral group, played hand bells at the Zion Lutheran Church in Cobleskill, plays trumpet in the Cobleskill College jazz ensemble and the Middleburgh summer band.
Chris has been a member of the Schoharie Valley Concert Band for 20 years. He lives in Seward with his wife Janice. They have two married daughters, Holly and Keri (they also played musical instruments) and three grandchildren. Chris has worked at the Cobleskill wastewater treatment plant for 28 years; three years ago he became the superintendent of the plant.