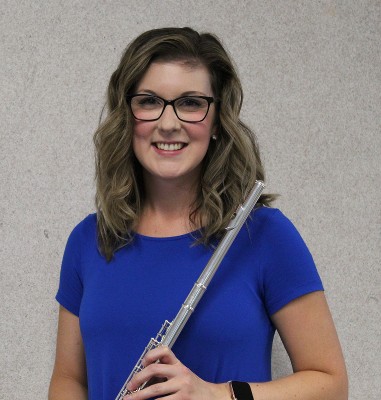 Samantha Baldwin is in her third year of teaching at Shaker High School in Latham, NY, where she directs two 9th-12th grade symphonic bands, pep band, and marching band and is co-advisor of Shaker's Tri-M National Music Honor Society Chapter. She is also the music director and pit orchestra conductor !or the Shaker musical. Pnior to teaching at Shaker, Samantha taught 4th and 5th grade band for three years in the Monroe-Woodbury Central School District in Central Valley, NY.
Growing up in Schoharie County, Samantha was fortunate to study with outstanding local instrumental music teachers who fostered her love for music, some of whom still perform in the SVCB. She began taking piano lessons at age 7 from Doris Blake and started learning flute in school at C-RCS at age 9 from Susan Ginsburg. At age 12, Samantha began studying flute privately with Jerry Law and was also given special allowance by Marty Zavadil to join the SVCB. It was this experience of performing with and learning from musicians of all ages, backgrounds, and professions who had kept music an important part of their lives that first inspired Samantha at a very young age to make a career of sharing her passion for music with others. As a student, Samantha won the Donald Webster Solo Competition in all three age categories, having last performed as a soloist with the SVCB as a senior in 2008, and, under the guidance of high school band director Brian Swanhall, was the first-ever instrumentalist from C-RCS to be selected for the NYSSMA All-State Symphonic Band and Symphony Orchestra.
Samantha graduated Summa Cum Laude from Syracuse University with a Bachelor of Music in Music Education and Performance Honors Certificate where she studied flute with Deborah Coble, retired Principal Flute of the Syracuse Symphony Orchestra. As an undergraduate student Samantha won the position of Drum Major of the Syracuse University Marching Band. She remained at SU for another two years to complete two master's degrees in Music Education and lnstrumental Conducting while employed as a Graduate Teaching Assistant for Syracuse University Bands.
Samantha is thrilled to live, teach, and perform in the Capital Region again and absolutely loves being a member of the Schoharie Valley Concert Band.